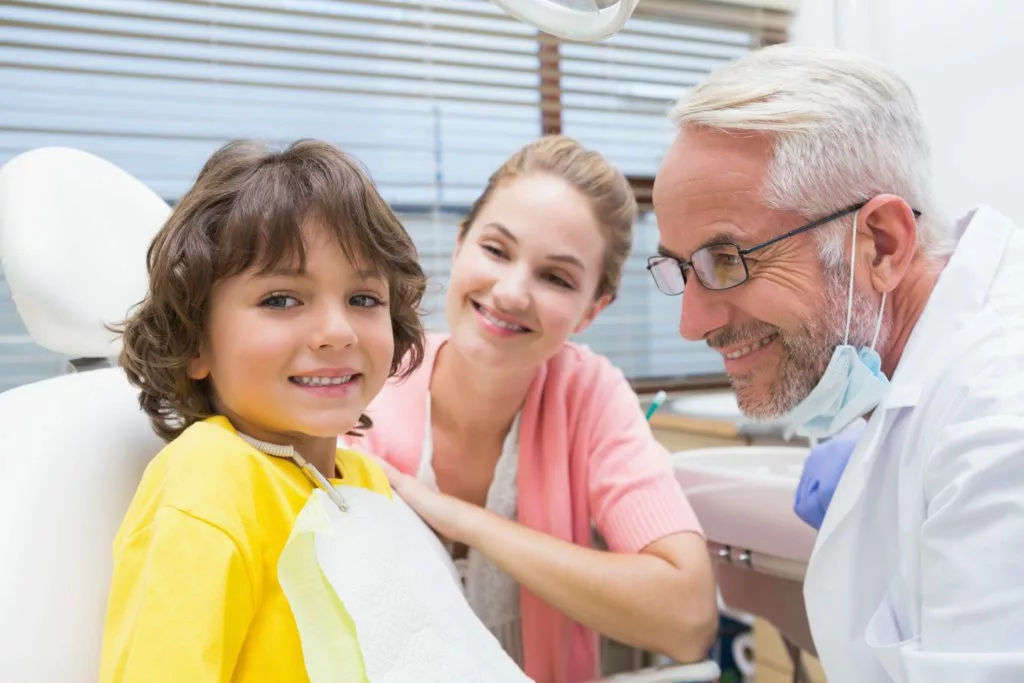 What You Should Know About Pediatric Dentistry
The goal of pediatric dentistry at Dr. Koya's Clinic is to PREVENT dental problems in children by inculcating good oral habits as soon as their first milk teeth erupt. Cavities are the most common dental problem for children that are completely preventable. To make this happen, parent and child education is key.
Kids have different dental needs when compared to adults. Parents may consult a pediatric dentist or an experienced general dentist who is trained to treat kids' dental problems from baby teeth to teens. We take into consideration the fact that the dental health in the growing years is vital for any child, as it impacts their oral health, facial appearance, and confidence levels.
At Dr. Koya's clinic, we make visiting the dentist a fun experience and not a stressful event for children.We aim at helping the child to develop positive attitudes towards oral health, such as regular brushing and flossing, healthy eating habits and regular dental checkups. Practicing good habits early in life will continue into adulthood and translates into a smile that will last a lifetime.
We focus on preventive care, prevention of early loss of milk teeth, cosmetic care and implants, among other services such as:
Some frequent Pediatric Dentistry procedures:
Dental cleaning
Treating cavities
Early orthodontic care
Tooth removal
Pulpectomy
Fluoride application
Sealants for Permanent Molars
Crowns for Milk Teeth
Space Maintainers
Benefits of Pediatric Dental Care as Children
Dr. Koya's clinic encourages parents to bring their kids to meet our kids' dentist team as early as their first birthday. This introduces them to a positive environment and allows them to enjoy the many benefits of preventive pediatric dentistry right from the start.
Awareness about Child Dental Health (for parents)
Parental education is one of the benefits of pediatric dentistry. After all, do you know if your child's teeth are coming in properly? How to prevent nursing cavities? How well are you brushing/cleaning your child's teeth? Are you using the right toothpaste? Learning about these tips go a long way in protecting the oral health of your child.
A few examples of non-invasive methods of preventing cavities that protect your child's teeth :
Sealants can prevent cavities and fillings can save decayed teeth from needing root canal treatment; Using fluoride-based toothpaste,fluoride-treated drinking water, brushing and flossing regularly, significantly lower the risk of cavities.
Preventing thumb sucking habit contributes to a healthy bite.
Developing Good Habits
While your child might not need an intensive cleaning session at age two, it's important to know how to brush and floss and how well oral hygiene habits can help long-term good dental health. By protecting your kids' teeth in their formative years, you will ensure your children get more out of life with a confident and a healthy smile.
Easing Fear of Dentist
The fear of the dentist is quite common among children especially if they are not familiar with a dentist's office setting from a young age. Regular visits to a dentist for routine dental checkups, enable the child to learn good habits and help ease a child's fear of a dental appointment in the future.
Keeping Good Dental Health
Regular dental check-ups can help you track the health of your child's teeth, gums and bite. The regular dental cleanings help detect potential dental problems that may arise in the future and the necessary preventive measures can be adopted.
Preventing Decay
Detecting cavities in baby teeth are absolutely critical for timely correction and prevention of severe damage to the tooth.
Why Dr. Koya's Clinic?
Dentists at Dr. Koya's Clinic understand the importance of high-quality and personalized dental treatment for children who often suffer from several teeth and bite problems. Our dentists are empathetic to every child's dental needs (from baby teeth to teen years) and have gentle manners with even the most nervous of patients.
Our pediatric dentists are qualified and trained to treat kids' dental problems with utmost care and proficiency. We encourage parents to take the responsibility of their children's oral health and ensure they get the care they deserve.
For more information about the services or to book an appointment, Call us +91 82978-91188; +91 99633-33456 or Email us at thedentist1188@gmail.com