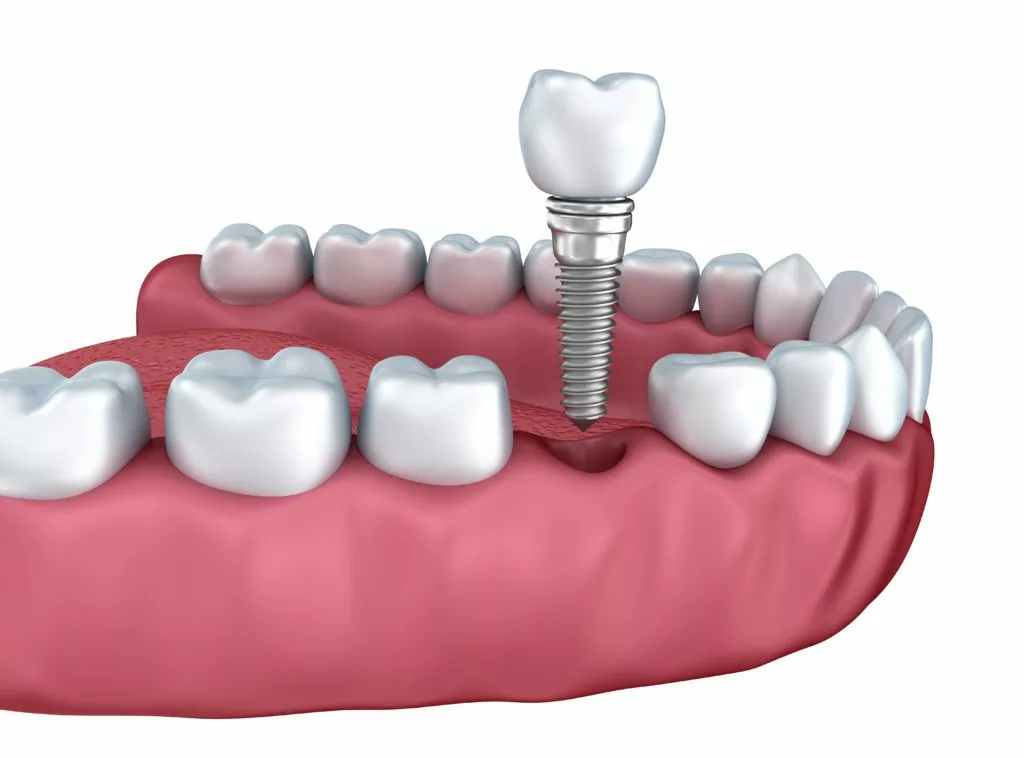 What you should know about Dental Implants
Do you have missing teeth? Are you looking for a durable, fixed replacement for your lost teeth? Then, Dental Implants has been a sure solution for missing teeth, for decades. They are considered the best-fixed substitute for lost teeth without damaging the adjacent teeth.
A dental implant plays the role of the root of a tooth when placed in the jaw bone; and support artificial prostheses such as crowns, bridges, and dentures. The main aim of a dental implant is to integrate with the surrounding bone thus simulating a natural tooth.
A dental implant takes time to integrate with the jaw bone to attain stability. Once the stability is attained, the implant is covered by an abutment through which the prosthesis is engaged or retained.
Implant procedures may take a  few days or a few months based on the rate of the bone formation surrounding it. However, same-day implants are also gaining popularity and can reduce the waiting period.
Dental implants are placed by an oral surgeon, periodontist, prosthodontist or an experienced certified implant dentist. Pre-treatment assessment is done by the dentist to identify if the patient is a suitable candidate for implants.
Dental implants are recommended if one, more than two, or all teeth are missing. Poor bone density is a deterrent for dental implants, however, bone augmentation can be done to enhance the bone density before placement of implants.
Variations of Dental Implants
Single tooth Implant: It is used to replace a single missing tooth.
Implant supported bridges: Two or more implants are used to replace more than two teeth with the help of a bridge.
Implant supported dentures: Complete dentures have good retention and stability when they are anchored to the jaw bone with implants.
Benefits of Dental Implants
Improves function & aesthetics: Dental Implants enable better chewing function while greatly enhancing the aesthetics. This helps patients to eat all types of food and improve his health.
Provides better perception: Since implants are placed in the jaw bone, the chewing forces are transmitted to surrounding bone and offers better perception similar to natural teeth.
Offers better cleaning:  Implants can be cleaned just like natural teeth by regular brushing and flossing.
Improves the look: Implants replace missing teeth by maintaining the height of lower half of the face and enhance facial aesthetics.
Strong and durable: Implants are strong and durable for the lifetime if maintained properly.
Provides better speech: Implants improves speech capability by maintaining the integrity of teeth.
Boosts confidence: Dental implants boost the confidence of an individual as it offers a similar look and feel of natural teeth.
Why Dr. Koya's Clinic?
With an advanced set up combined with the expertise of the implant specialist, Dr. Koya's Clinic can be rightly referred to as one of the most sought-after destinations for dental implant procedures. We use latest technologies, and a customized approach towards every individual, providing them the most appropriate solution.
We carefully analyze the success of dental implants by assessing important factors such as patient's medical history and overall health, to ensure happy smiles for our patients. We educate our patients about the importance of follow-up visits and regularly assess the condition of implants for long-term dental health.
Looking for dental implants? Schedule an appointment. Call us  +91 82978-91188; +91 99633-33456 or Email us at thedentist1188@gmail.com